Rudi Gunn is a fictional character in the Dirk Pitt adventure novels by acclaimed novelist Clive Cussler. He is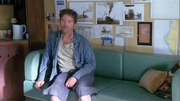 played by Rainn Wilson in the movie Sahara.
Rudi Gunn is a graduate of the U.S. Naval Academy, graduating first in his class. He formerly held the rank of Commander in the Navy. He joined NUMA at the same time as Dirk Pitt and Al Giordino, becoming deputy director of NUMA's oceanographic projects, making him second in command under Admiral James Sandecker. Gunn has a thinning hairline and wears thick horn-rimmed glasses, which are reminiscent of his childhood nickname, 'Beaver Eyes'. He was nominated for Nobel Peace Prize for his work in the Sahara crisis, but did not win.
Gunn is described as behaving like an academic, but is not afraid to get his hands dirty if the situation so requires. Despite his tendency to be a stickler for rules and regulations, Gunn is respected by Dirk Pitt and Al Giordino because he does not inform Admiral Sandecker of their exploits, which are often in violation of instructions that have been given to them.